When experimenting together with your website, you'll need to try different demos. If you've already imported a demo and would love to try a different one, you have to use one of methods mentioned below to remove all the content from the previous demo before importing a replacement one. except for this, you'll additionally use the methods shown below to get rid of duplicate demo content.
Sometimes, importing a demo will take some minutes. Duplicate demo content happens when the 'Import' button is clicked multiple times. for instance, if you click 'Import' twice, there's a possibility that every one the demo content are imported twice.
There are 2 ways to get rid of your duplicate content.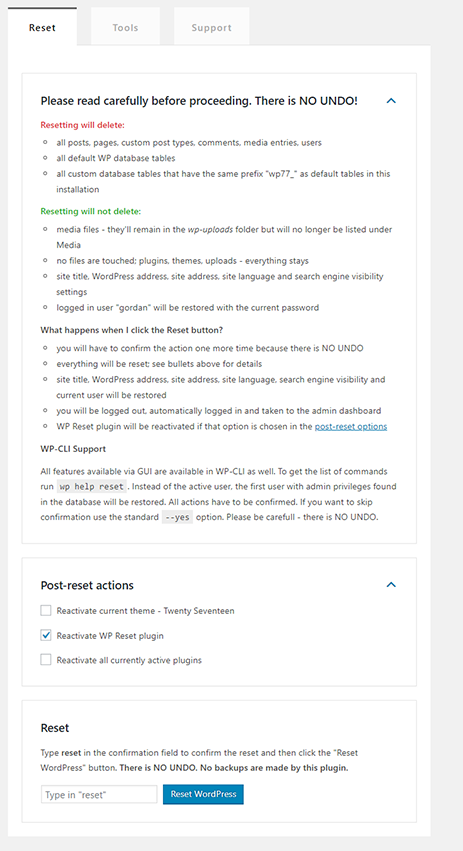 1) WP Reset Plugin
WP Reset Plugin is the fastest way to get rid of content. However, it's remove all of your content from database and leave the default theme activated. It does not remove your Installed plugins, but it will deactivate them. This plugin will remove all posts, pages, menus, sliders, widgets, themes, etc. So Only do this if you are able to start over with fresh WordPress.
Step 1: Download and install the WP Reset Plugin.
Download WP Reset Plugin or Directly search on Plugin Directory
Step 2: After installing the WP Reset Plugin, Just click on Activate.
Step 3: Now Just Hover on your site name in the upper left corner of your screen, and you'll find the 'Reset Site' option.
Step 4: Here you must type Reset in the text box before you can click 'Reset'.
Step 5: Here, a warning popup will appear that Are you sure you want to proceed? and informing you again that this action is irreversible. If you'd like to proceed than just Click 'Reset WordPress'.
Step 6: Once it finished, you'll be left with your clean Newly installed WordPress.
Method 2: Manual Removed WordPress
Using This method involves manually removing the demo content items. Like, you would need to go to your Pages section and select all pages and delete them. Repeat this process for all the areas that contain your data. Here, You can use this method if you have already created pages and posts and don't want to reset your whole site. You can delete your menus is well and do same for post, sliders, etc.