How to Open Demat Account with Zerodha Online or Offline 2020
Are you are looking for a New Demat Account that has a trustworthy broker that has the lowest brokerage charges and a user-friendly platform. In this post, we will discuss How to open Demat account through Online Zerodha Account Opening Page and open your Zerodha Demat account in less than 15-20 minutes.
About Zerodha (Discount Broker)
Zerodha introduced the concept of Discount Broker in India for the first time.
Zerodha Discount Broker: A stockbroker or a brokerage firm that charges less commission on transactions, but they do not provide any investment advice or other services.
Zerodha is one of the leading discount brokers in India for trading in Stock Market, Currency Derivative, and Commodity Market with the Highest volume of the Trader database. It also charges a brokerage of 0.01 paisa which is the lowest as a broker.
Zerodha Account Opening Charges:
Zerodha Demat & Trading Account Opening Charges: Rs. 200
Zerodha Commodity Account Opening Charges: Rs. 100
---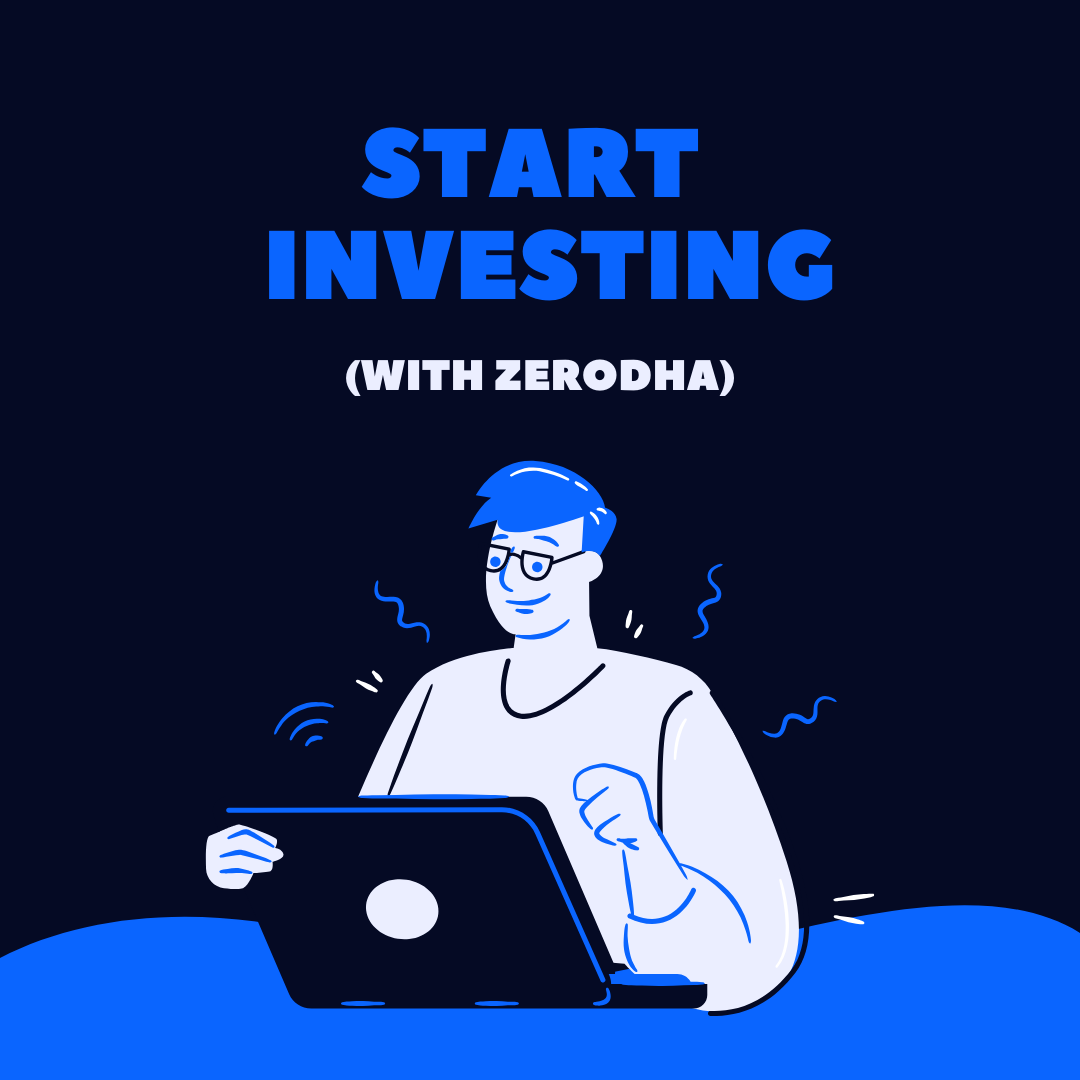 ---
What Kind of Documents Required To Open An Account With Zerodha?
PAN card: You must have your PAN CARD. Also, You require 1 self-attested copy of the PAN Card.
Aadhar Card: Digital Copy of your Aadhar Card, as well as Aadhar link with your primary Mobile phone number to receive OTP.
Address Proof: Valid Voter Id / Driving License / Passport with self-attestation.
Bank Proof: Also need, Bank Passbook account front page, Which shows both the IFSC and MICR code clearly.
Income Proof: It's optional and required only if you want to trade in future & options, or to trade in commodities, and currency. Required Cancelled Cheque or Last 6 Month Bank statement, Digital Signature (with a photo of signature completed on a white paper)
How to open demat and trading account with Zerodha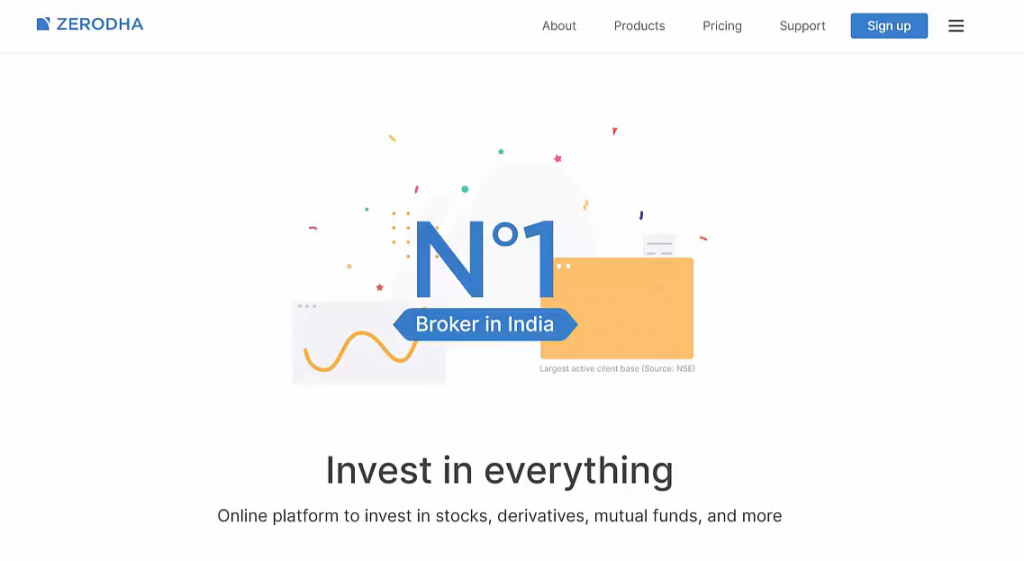 How to open zerodha account step by stepFollow Step By Step Process, We will help you in detail to open an online account with Zerodha Broker.
Step 1: First of all you need to Visit Zerodha Account Opening Page.
Click here to Visit Zerodha Account Opening Page
Step 2:  Now, Enter your Mobile Number and Click on Continue.
Step 3:  After entering your mobile number, you need to validate OTP. You will get a One Time Password (OTP) on your mobile number. Enter the OTP, and click on Confirm.
Step 4:  Now, You will be redirected to Signup form page.
Here, Enter your Full name & Email Id and Click on Continue. You will get OTP in your email inbox.
Step 5:  Enter that OTP (From Email) in option given below and click on Continue.
Step 6:  After that, Provide your PAN number and Date of Birth (DOB According to your PAN Card) to start the application process.
Step 7: Now, you have to do Payment for the online account opening with Zerodha. Checkout the rates are as below:
You can select any one of them options.
Equity and currency Option: Rs.200 (Recommended for Newbies)
Commodity Option: Rs.100
You can do payment via Debit card, Netbanking, Credit card or UPI, as per your convenience.
Step 8: Now in Next Step, Provide your Bank Account information. This information includes in your Cheque.
Bank account number
Branch IFSC code
Step 9: Now in Next Step, Provide your Bank Account information. This information includes in your Cheque.
Step 10: After Completion of Bank Information, Now Provide personal information like.
Marital status
Father's name
Mother's name
Annual Income
Occupation. 
Step 11: Next, In-Person-Verification Over Webcam (Based on Webcam IPV)
Now you have to do In-Person-Verification over webcam, you have to write the displayed OTP Code on a Big piece of paper or You can do on your mobile phone screen and Photo clicked by the webcam as shown on below image.
Just Click on Start IPV Button.
Remember, Your face and OTP should be clearly visible on the webcam. After that Click on Take Video.
Step 12: It's time to do Digital Sign
Now, Here you have two options. If you want to open the Zerodha account offline, you need to download the application form and courier it to the Zerodha head office address.
OR
If you want to open the Zerodha account online, then you will be asked to do Digitally sign the application using your Aadhar card and click Continue.
After Successfully completing the process, Now you need to digitally sign using your mobile Number OTP.
Step 13: Here, Now you have to upload any of the document from bank statement or canceled cheque as bank proof.
Remember, If you want to trade in the Future & options, then you have to upload income proof is well.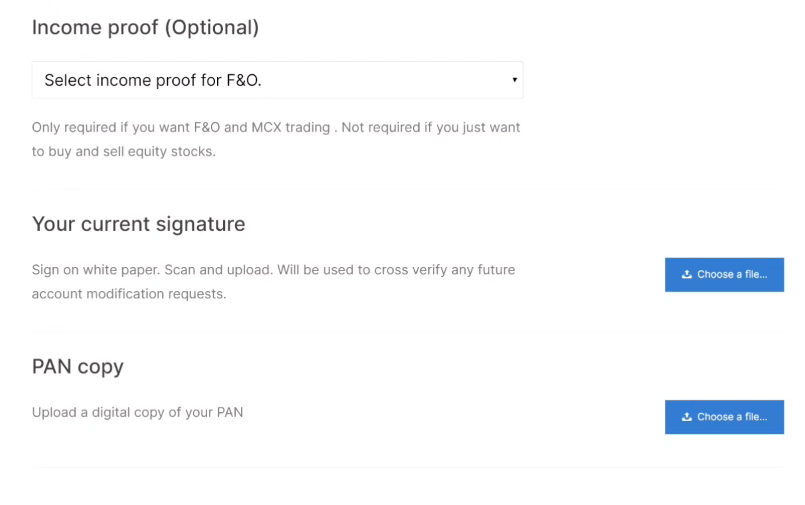 Step 14: And the Last Step, eSign Equity
After uploading all your required documents, Just scroll down and at the bottom you will see an option to eSign Equity.
That't it… Now you have completed the Online Zerodha account opening process and you will receive your Client ID and Password within 24-48 hours on your Email Address or Mobile Number.
Zerodha Office Address
HQ
Zerodha, #153/154,
4th Cross, J.P Nagar 4th Phase,
Opp. Clarence Public School,
Bengaluru – 560078
If you facing any difficulties while opening an online account, you can contact Zerodha customer care number 080 4913 2020
Zerodha Frequently Asked Questions (FAQ)
[WPSM_AC id=1258]