What is a Mutual Fund?
The term Mutual Fund refers to the accumulated wealth accumulated by many investors, which is aimed at saving and making money through their investment. The funds created in this manner are invested in different asset classes.
Debt Fund, Liquid Assets and Choice Like the profits and rewards earned in the period of investment, the losses are also shared by all investors in the same proportion. Mutual funds are the most popular investment types for everyday investors.
Mutual funds are registered with SEBI (Securities and Exchange Board of India), which regulates security markets before collecting money from investors. Investing in a mutual fund can be easy to buy or sell online stock or bond. Apart from this, investors can sell their shares whenever they want or when needed.
There are no membership fees, transaction fees or any other hidden fees on Groww and it is 100% paperless. The company has seen a 50% month-over-month increase since moving to Direct last April 2019. Groww offers all mutual funds from all 34+ leading fund houses.
About Groww (Mutual Fund App)
Groww is an India-based online investment platform. Headquartered in Bangalore, Groww has allowed investors to open an account electronically and make online transactions in mutual funds.
By June 2018, Groww had partnered with 34 mutual fund houses and around 5000 mutual funds were available on the platform. Groww also offers a mutual fund explorer with past performance and information including stock.
Groww was founded by former Flipkart staffers Lalit Keshare, Harsh Jain, Neeraj Singh and Ishaan Bansal. It acquired seed capital from investors, Mukesh Bansal and Ankit Nagori in January 2018.
It increased $ 1.6 million in June, 2018, in a pre-series A funding round from Insignia Venture Partners, USA's Lightbridge Partners and Carous Fund.
How to Invest in Mutual Fund for First Time using Groww App?
Just follow below steps to Create Account
Step 1: First of Download Groww App through Below Link
Step 2: Open the Groww App
Step 3: Signup with Google
Step 4: Enter your Mobile no. here then tap on 'Verify Number'
Step 5: Enter the 'Verification code' sent on your mobile number then tap on 'Confirm'
Step 6: Enter your 'PAN Number' here and then tap on 'Next'
Step 7: Enter your 'Name'(AS PER YOUR PAN CARD)
Step 8: Enter your 'Date Of Birth'
Step 9: Select your 'Gender' here
Step 10: Enter your 'Nominee Name' and select the 'Relation'
Step 11: Tap on 'Next'
Step 12: Enter your 'Mother's Name' and 'Father's Name'
Step 13: Select if you are 'Single' or 'Married' and then Tap on 'Next'
Step 14: Enter your 'Bank IFSC code' and then press 'Confirm'
Step 15: Enter your 'Bank Account Number' and then Tap on 'Next'
Step 16: Click your photo then Tap on 'Next'
Step 17: Make your 5 seconds video then Tap on 'Next'
Step 18: Click a clear picture of your PAN card and then Tap on 'Next'
Step 19: Select one of these for address verification (We chose Aadhaar Card for Reference purpose)
Step 20: Click the front of your Aadhaar Card then Tap on 'Next'
Step 21: Click the back of 'Aadhaar Card' then Tap on 'Next'
Step 22: Enter your 'Aadhaar Card Number', 'Address', 'Pincode'
Step 23: Enter the 'City' and Select the 'State' then Tap on 'Continue'
Step 24: Tap on 'I Agree'
Step 25: Tap on Sign and then Sign and Tap on 'Save'
Step 26: That's it. Your Account Creation is Successful
Groww App Refer and Earn
Groww App also provides Rewards for Referring Friends on Groww App. Here Registered user can Earn up to Rs.10,000 Per Invite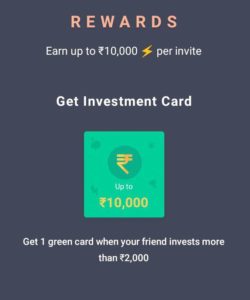 Let's Checkout SIP Calculator for Mutual Fund Returns
Just Enter monthly SIP amount, the number of years and the expected returns.
See the Example Below
Question & Answers Related to Groww App
If you still have any doubts related Groww app like How to start SIP? How to Withdraw Amount? You can visit Groww App Youtube Channel
How to start a SIP on Groww App?
How to Complete the Account Creation on Groww App?
Groww Customer Care Number | Email
If you have any queries or experience difficulty while investing you can contact them through,
-> Groww Customer Care Email Address : support@groww.in
-> You can all request a callback from Groww Helpline Page : Contact Groww Now
-> You can also see the Chat option on the website towards the right. (Available on Groww App also)